by Cheryl Till
When Magistrate David Heilpern first spoke about his experience with vicarious trauma at a Tristan Jepson Memorial Foundation (TJMF) annual lecture last October, he did not expect his picture to end up on the front page of the Sydney Morning Herald.
"I think this must have really hit a nerve," Heilpern said.
"To the best of my knowledge, I am the first and only sitting judicial officer to talk about their own experience of mental health."
According to Clinical Psychologist, Shirley Till, vicarious trauma can affect any person exposed to the details of a client's traumatic experience.
"It's very similar to the actual symptoms of trauma itself," Till said, "affecting how they feel, anxiety level… sleep difficulties, nightmares."
Up to 85% of individuals in 'helping professions' including ambulance drivers, doctors, counsellors and law enforcement may suffer from vicarious trauma. But only 15% of those in law enforcement seek professional help, according to vicarious trauma prevention expert, Olga Phoenix.
"I thought I was immune," Heilpern said. "It's like a sponge … you can take a hell of a lot and then suddenly it starts overflowing."
"In the high court they wear wigs and gowns to disguise themselves," he said. "We're not meant to be seen as humans at all, let alone humans with thought and feelings and emotions."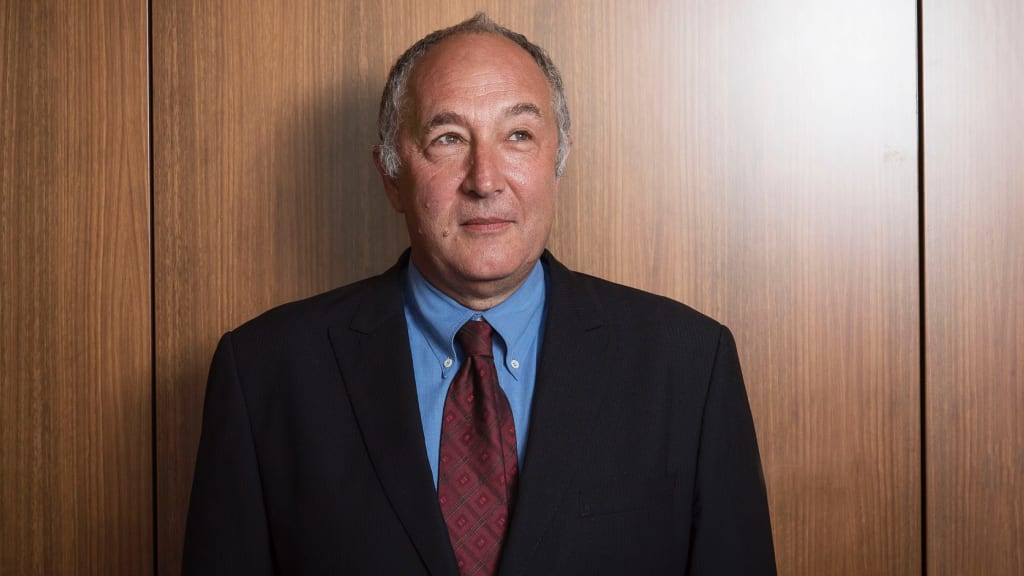 It wasn't until his wife, a welfare worker, urged him to seek psychological assistance that Heilpern acknowledged the issue, he said.
"There is a real stigma around talking about mental health issues in the criminal justice system," Heilpern said.
"I was overwhelmed by the number of judges, magistrates, senior judges who contacted me saying 'thank god you're speaking up because here's my experience'," he said. "I'm talking literally more than a hundred responses, all positive and all saying 'me too'."
Since its establishment in 2008, this stigma is one of the things that TJMF has been working to change.
"If I wasn't near the end of my judicial career I probably wouldn't have come forward," Heilpern said. "I've only got a couple of years left before I intend to retire, so for me, it was probably a lot easier to come forward than those who have ambitions to go into higher courts or take on more responsibility."
In a statement released by TJMF, founder and former Executive Director, Marie Jepson, said: "Creating a psychologically safe and healthy workplace culture does not happen overnight. It requires sustained effort and active leadership commitment."
Till said that raising awareness for vicarious trauma during training stages could help to address "an area that has been very much neglected."
"It is really important for [lawyers] to be educated about the warning signs and to know where to reach out for help," Till said.
"The amount of trauma that they have been exposed to, the circumstances where that's happened, maybe the personality and how soon they reach out for help. Those would be more important factors in terms of determining how long it takes for them to recover."
For Heilpern, raising awareness is something that he has actively been integrating into his own work when conducting training for new magistrates.
"There's a real emphasis now on mental health and wellbeing," he said, "how to get help and what do if you're not coping."
Headspace Community Engagement Officer Liesel Homes also believes that early intervention from as early as university could improve workplace culture in the legal field.
According to Business Insider Australia, law is amongst the top 20 professions with the highest suicide rates, with lawyers being 1.33 times more likely to commit suicide than the average person.
"Lawyers and doctors are two of the highest professions in terms of suicide," Homes said, "and part of that I think is the culture of the organisations and the expectations that are placed and the hours that are worked."
"I would rather people over-identify and sought help than under identify."
But not everyone believes that implementing preventative strategies will make a difference.
"There's nothing any system can do to protect you from horrible situations," former litigator for Legal Aid, Atousa Khadem, said.
"It's just a part of the job. You're just expected to deal with these situations every day."
For Legal Aid criminal solicitor, Peter Skidmore, this "get on with it" attitude comes down to the "bravado" of legal culture.
"There are undeniable high rates of depression for legal practitioners."
"You have colleagues who you can debrief with, but essentially either you stop doing it or you develop some resilience," Skidmore said. "Those are the only two options you have. I can't see that changing in a hurry."
"I've had a couple of clients try and attack me. I've seen people try to kill themselves in front of me. I've known two [colleagues] that have killed themselves."
"What is confronting for me is seeing people who are in great distress… you feel their pain but you also feel powerless to stop it."
When asked how he deals with it, Skidmore laughingly said: "Drink heavily."
Steven Doumit, a Senior Criminal Solicitor for Legal Aid said that debriefing sessions and employee assistance programs are available within Legal Aid, something TJMF "has been a big mover and shaper in."
Doumit also said that traumatic material of NSW's first terrorism trial in the mid-2000s also influenced changes in Legal Aid.
"Videos involved executions and beheadings," Doumit said. "Once [the legal team] had seen all of that material and had run all their arguments past us, we sent them off to psychologists to debrief."
"That was the first formal case I became aware of where we did that. That's when Legal Aid made available a psychologist who people can book in to see on a regular basis."
Despite these improvements, Doumit said that more could still be done.
"We assign private practitioners, so how do we support them?" Doumit said. "They're doing a legally aided matter but they're not our employees. Should we be expecting them to pay for their own welfare?"
According to Jenny Houen, Director of BarCare, using online resources and promoting general awareness of mental health are some ways in which support systems can be built.
For barristers, Houen said: "The bar association will pay for four counselling sessions and they're welcome to ring me to talk things through. It's not a bad system but of course, there could always be more."
"There's always room for improvement."
This was a sentiment that was echoed by those in the judicial sector.
"There's been two magistrates who've killed themselves in the last 12 months," Heilpern said. "It's absolutely tragic."
"I don't think It should be necessary for people to call out for help, I think there should be preventative measures of mental health checking."
"We get a physical checkup every year," Heilpern said, "I think magistrates and judges should have some organised, predetermined mental health debriefing on a regular basis."
"I think it's actually up to us to institute that stuff rather than external organisations… As a collegiate group, we need to take responsibility for it."
"We do have a number I can ring if I am feeling like I want assistance," former deputy chief coroner for NSW, Magistrate Carmel Ann Forbes said. "That's what David [Heilpern] accessed."
"Just talking about it helps put your head in the right place so it doesn't stay on that loop that goes round and round," Forbes said. "You go to sleep and think about it, you wake up and think about. You can work it through, talk it out."
"Shit in shit out," Heilpern said with a laugh. "That's the technical term."